Chuck's "Silver Bullet" RZR Pro R 4 Seat Build
We were on our way across the country from Texas to eastern Tennesee to deliver 2 RZR Pro R builds we had just finished. As usual we are posting on social media and adding stories to our IG and Facebook. Chuck, halfway serious, made the comment… "Come pick mine up in PA" . Calling his bluff we sent him a message for an address, and He told us to Come get it. Long story short, 2 days later it was in the shop ready to get started.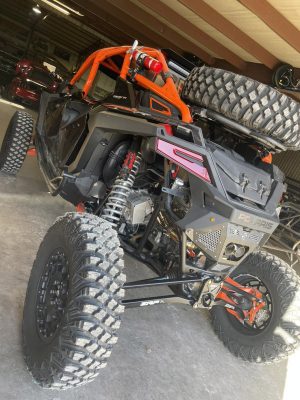 How it showed up.
Chuck's 2022 RZR Pro R 4 Seat already has some accessories installed. A lot of them we will remove, but some are the right parts. We have a lot of work to do.
The Inspiration "TREMOR"
We have design freedom on this build, so the first step is to find inspiration through previous builds, and the good ol GOOGLE. Chuck mentioned he liked silver, and I knew exactly where I wanted to go with this. I have been attracted to ford's "Iconic Silver" color for a few years and this was the opportunity to incorporate it. The inspiration we decided to focus on was the Ford F-150 Tremor package. It has the Iconic Silver with some orange accents. This will be perfect.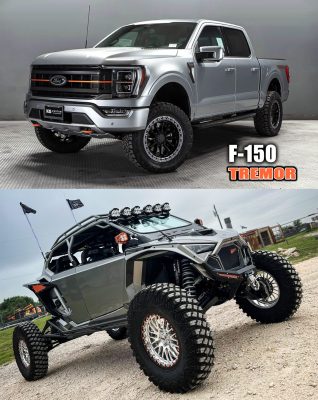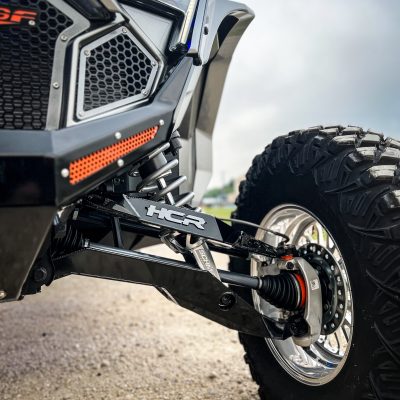 Tie it all together with details.
To make this Polaris RZR Pro R worthy of "BEST BUILD" it takes a lot of detail. Not just random detail, but details in the right places. We do not want the orange to take away from the Iconic Silver so it must be minimal.
The Orange: Turner axles with Custom powder coated axle cups, upper RCV ball joints, rear fender mesh, DRT front bumper mesh, Viper shifter knob, Baja Designs mirror accents, beadlock bolts, PRP seat stitching, and most important…. the ABF grill logo.
The Silver is tied into the HCR logos, The small accent on the seats, and the interior accent plastics.
The Turner axle shafts are custom powder coat matched to the Roll cage. All wiring is ran seamlessly through the cage and is PERFECT. (Thanks to our Good Friend..The wiring guy – David). The Hazzard button on the switch pro is illuminated red, and activates front and rear hazzards without the key on. Rock lights are also added, but the LED's are not visible, just the light. The Cage is meticulously TIG welded and the roof panel is fit perfectly. We could go on, but we will let the VIDEO do the rest.
Watch the Full Walk Through…
Buy Products from this Build....