It started with a goal in mind to build a showcase RZR Pro R 4 seater for the 2022 Sand Sports Super Show. We grab a seat in front of GOOGLE and and start our search for inspiration. We knew we wanted to offer something luxurious that would stop everyone in their tracks, and possibly go viral on social media.
The search ended with the following images. An all Bronze Lamborghini Aventador SVJ Roadster.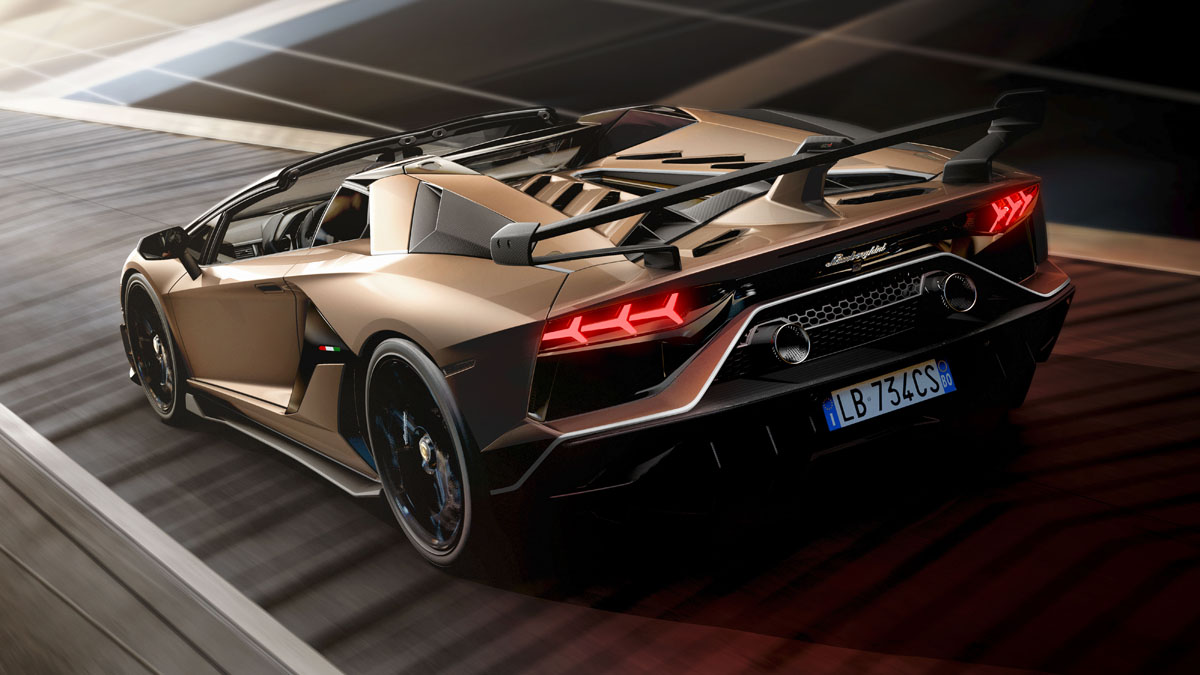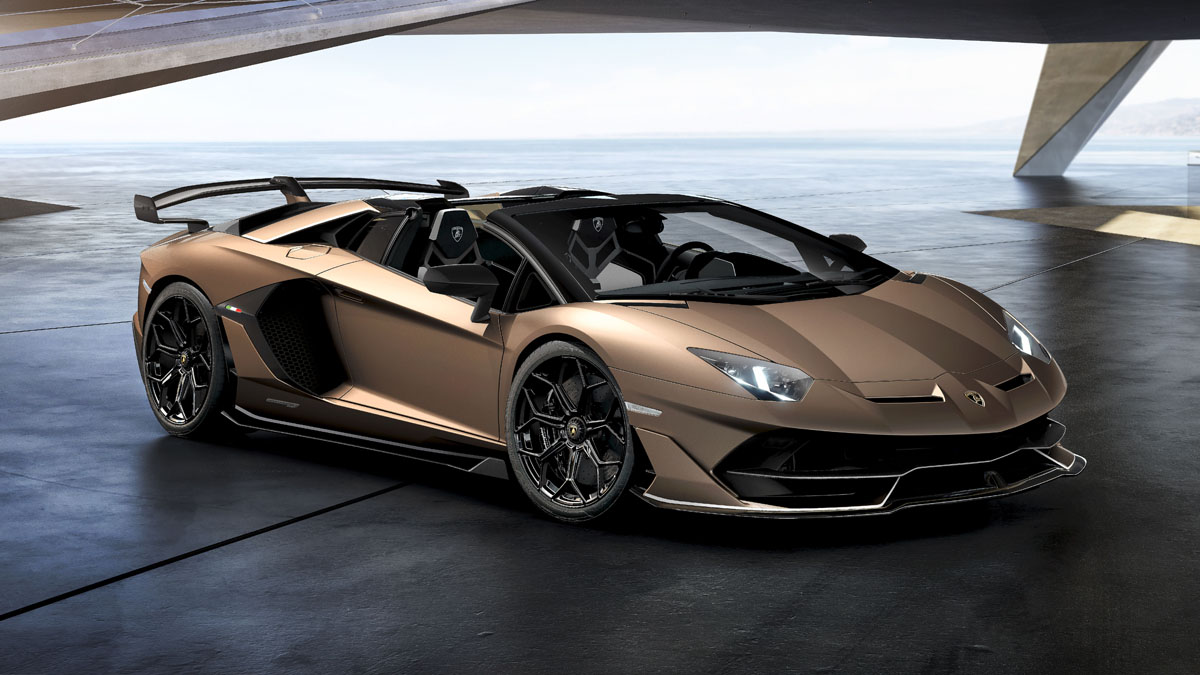 The Dream
Our team went to work on a rough rendering to get a good idea of how this project "Aventador" Would look. It was always in the plans to release our "Elite" roll cage package with this Pro R 4 Build, and that was the first part rendered on the vehicle. Notice the Speakers just peeking from underneath the roof console. It was also decided that a NEW Baja Designs LP4 lightbar would be the focal point of the RZR Pro R 4's lighting. This was the initial rendering delivered to our "Elite" Partners.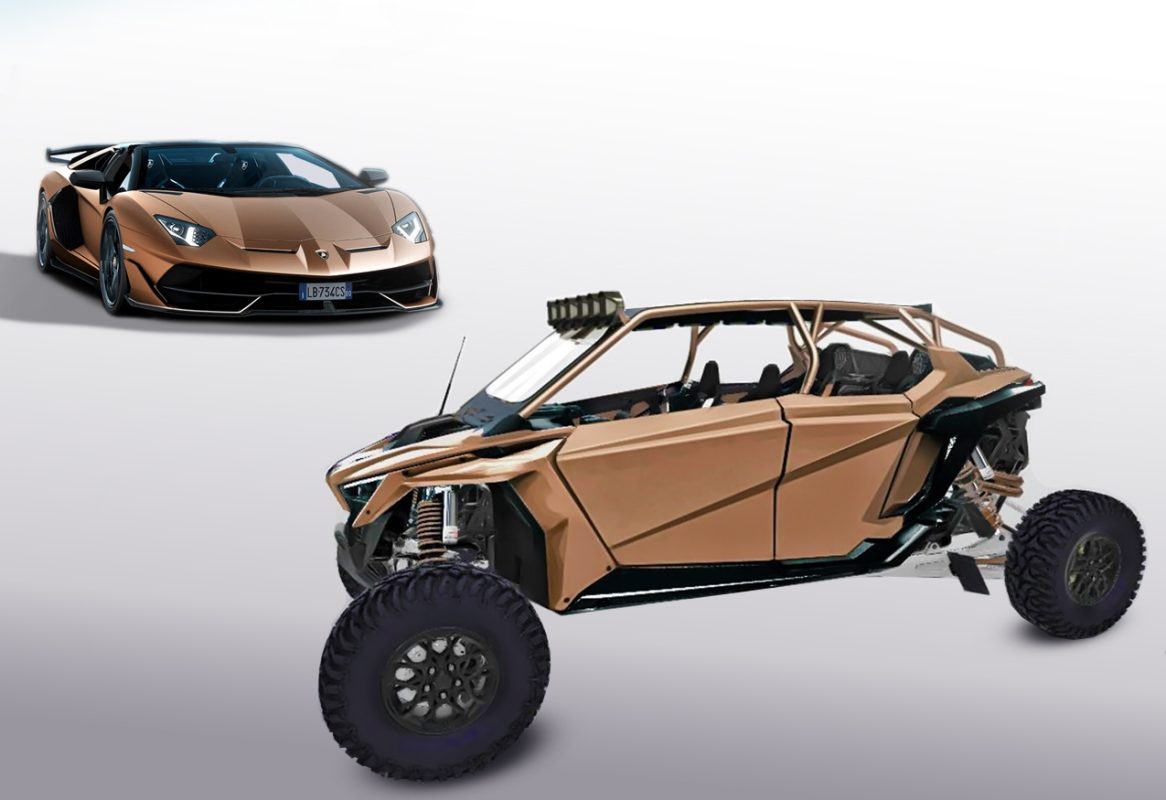 No skimping on the Details.
To ensure people would understand the build, we knew the details had to be there. Now we just needed to decide what details would work and flow with the RZR Pro R 4.
This was the list:
Gloss black painted rear vent area.
Gloss black lower Rocker area.
Red, White, and Green Italian color logo.
Hatchback Trunk with Glass looking over the valve covers.
Carbon Fiber accents
Dual Tip Rear Exit Exhaust with a Mesh Surround
White, grey and black interior colors.
One POP of red inspired by the Red Button.
Stainless Sill Plates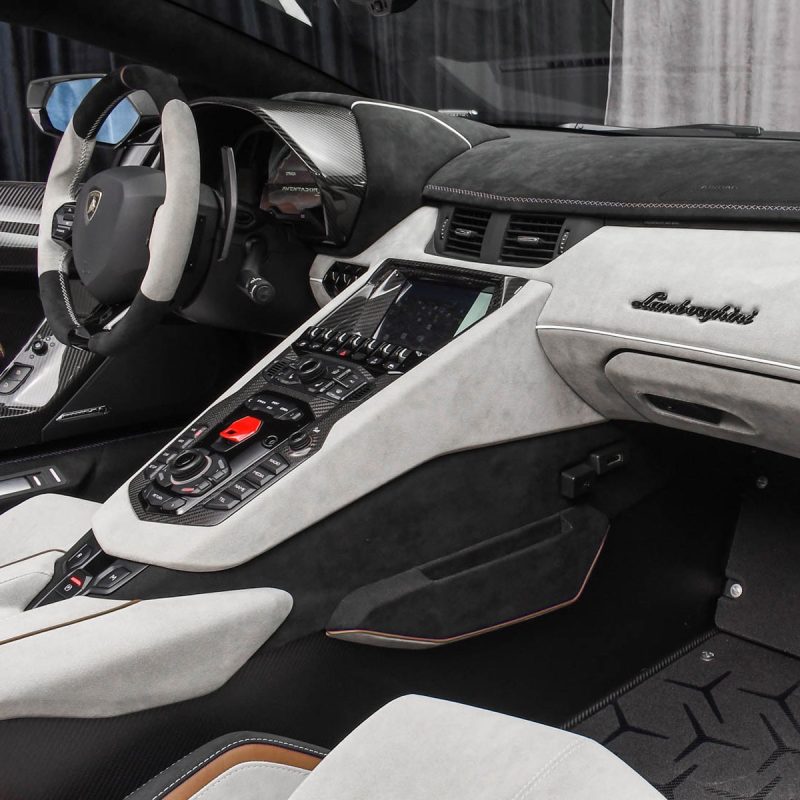 The first BIG Detail.
The "Hatchback". Aaron who is our Product Designer/Developer knew this was a BIG task and it would need to be one of the first to be developed. It would feature a really neat louvered vent section, and a Real Glass window. It would also have a gas strut assisted lift. The final Product is show stopping and quite possibly the BEST looking RZR Trunk.
The Final product is the Perfect combination of a functional RZR Pro R trunk, and the Lamborghini "hatchback"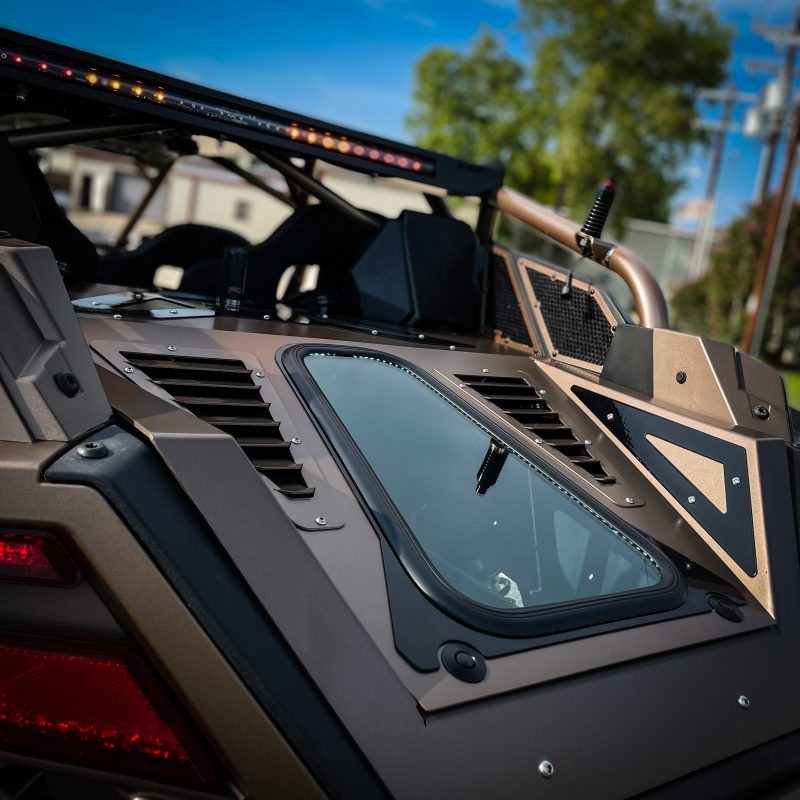 All the Details.
There is a lot to cover in the details, but we won't waste any time.
Take a look at the Lamborghini vs RZR Pro R photos to see how we tied all the details together.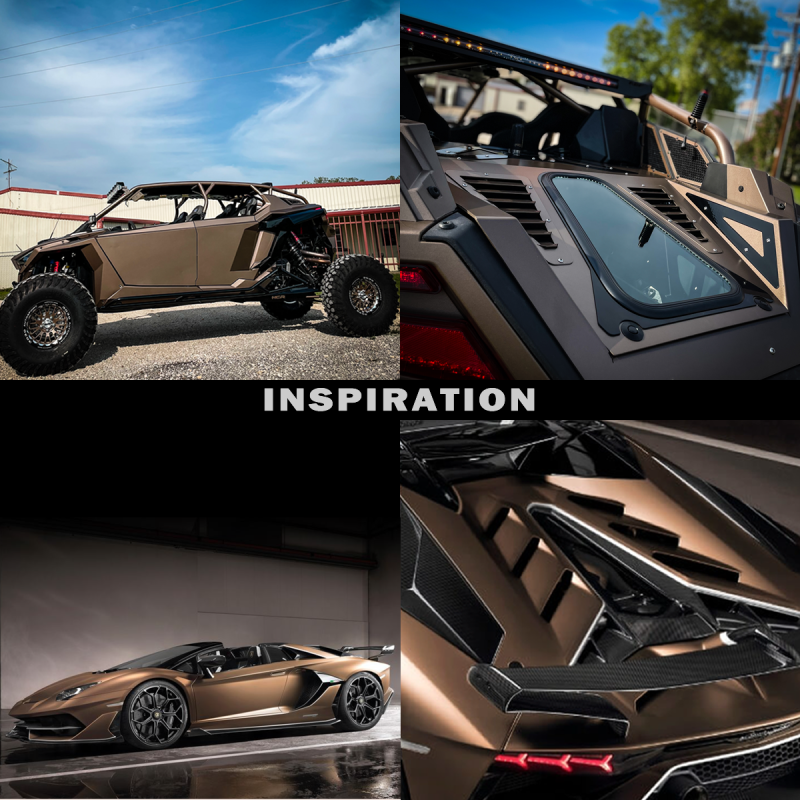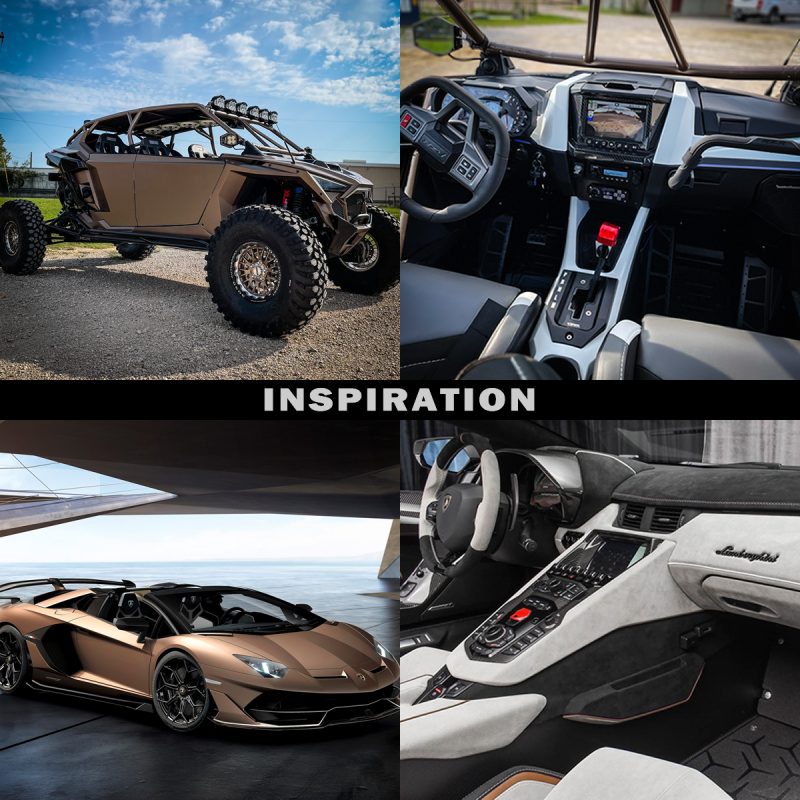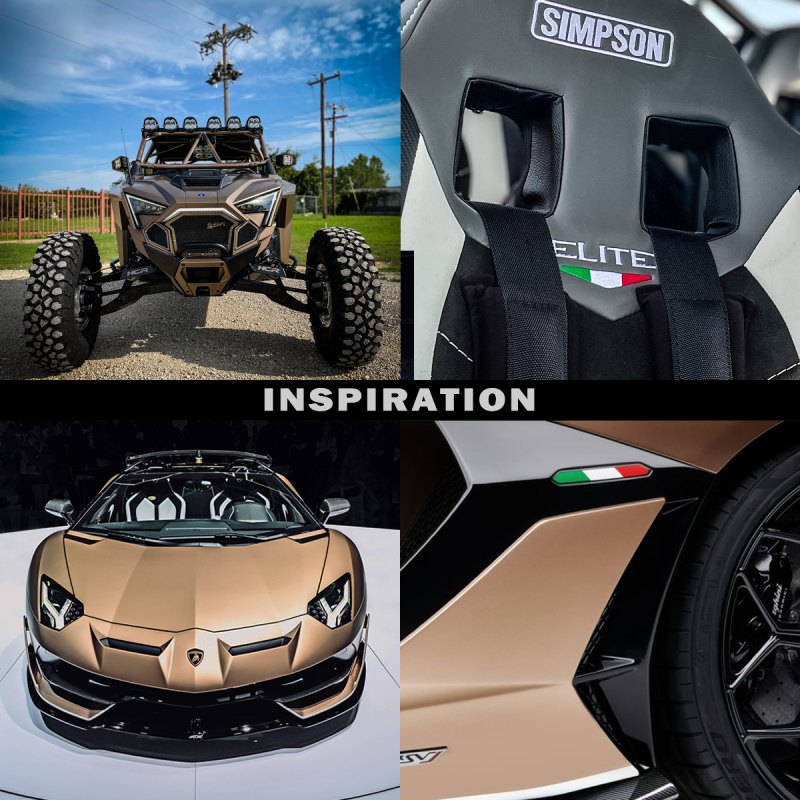 The Show!
The show goers LOVED this Build. The luxurious colors immediately drew their attention. From there they would walk all around the RZR Pro R "Aventador" taking pictures and asking questions. They were mind blown by the incredible Baja Designs LP4 Lightbar and how you could not see any of the wiring. They really enjoyed watching the trunk open, and the view of the powder coated bronze valve cover and engine.
Every so often we would use the "Elite" audio system to play a video of the RZR Pro R Dyno run. The show staff would make their way over to verify we didn't actually start the RZR. It was that GOOD!
Listen here for yourself…. TURN IT UP!!
The Show Continued….
We caught people laying down on the floor to try to see how our rocklights were mounted. You could see light emitted, but no LED's. There is a kit for that. Comments were made about the Baja Designs LP4 light bar… "You can't even see any wires". Comments were made about it being the BEST utv in the show! Our team was greatful because we put a ton of thought and hard work into this RZR Pro R 4 Seater. We also took some time to show our partners the build, and how we displayed their products in a classy way so that we didn't take away from them. It proved to be succesfull as show goers asked about specific products and where they could get them.
Our first Sand Sports Super show year was a HUGE success, and we are super excited to be returning in 2023.
Watch the full walk around first day.
The Partners
There is a lot to cover in the build partners, but we will be quick.
Elite Partners: HCR Racing – Full OEM Suspension. All TIG welded works of art. Adjustable front a-arms for perfect camber.
Rugged Radios – Full UTV communications kit for 4 seats. Over the head Alpha Bass headsets for perfect sounding music.
Baja Designs – Full LP4 Front lightbar, Nighthawk mirrors, rear Chase Light, and super bright push button LED dome lights.
Simpson Seats – Pro Sport seats with custom "elite" stitching and Italian colored logo.
Supporting Partners: 3030 Autosport, Fourwerx Carbon, System 3, Viper Machine, Kicker Audio, Moto Armor, Infinite Offroad, Switch-Pros, Axia Alloys, WD Electronics, Prp Harnesses, Ricks Custom Paint, Specialized UTV, Rockford Fosgate.
Buy Products from this Build....